Hands Free Door Opening Kits to Help Reduce Coronavirus (COVID-19) Spread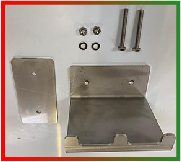 The Genlab hands free door opening kit has been developed to help reduce the risk of cross contamination that could occur when opening latch free doors with your hands in public places. Although designed specifically to help reduce the spread of Coronavirus (COVID-19) but will also help prevent the spread of other infections found on toilet or other commonly used public doors.
The kits can be retrofitted to any type of commercial, industrial or household doors, allowing operators to open any latch free locking door using their feet, in an easy to operate motion.
Manufactured from 3mm thick stainless steel pull plate and supplied with a 3mm thick rear supporting plate, it is designed for heavy industrial / commercial continuous use.
They can be installed internally or on external doors and supplied with a connection kit to suit doors up to 50mm thick. Installation takes less then 2 minutes per door.
OEM custom branding and powder coating also available.
Features

Heavy duty 3mm 304 stainless steel
Retrofit most types of doors
Installation time < 2 minutes per door
Suitable for internal or external use
Available in any colour upon request
Compact size...6cm x 12cm x 10cm (HxWxD)

Need Some Advice?
Contact us
* REQUIRED FIELDS
Tweets by @Genlab_ltd


All Genlab products come with a two year warranty
Bespoke Ovens Gallery
Click here to view some of the bespoke ovens we have built