Genlab Plastic Sheet Warming Ovens
Model shown PWO/660/TDIG/STAND/DDD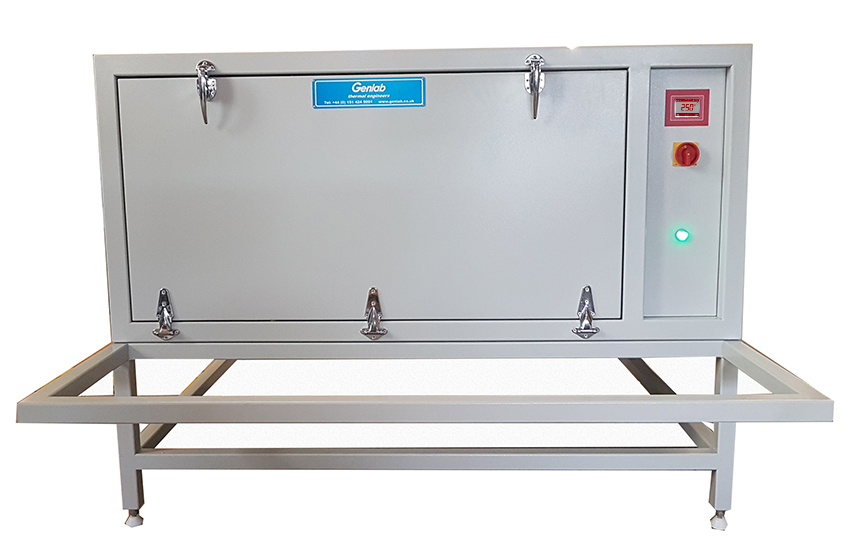 Genlab offer a range of Plastic Sheet Warming Ovens for use in the plastics and rubber industry for the controller warming and drying of thermo plastic sheets. We offer 2 standard sizes which are suitable for most standard sheets. However, custom made units can be designed to meet most other sheet dimensions.
They feature our latest touch screen control system whihc offers intuitive control and excellent accuracies designed for plastic warming applications.
Features
Temperature range: 50ºC to 250ºC
On screen historical trending (48hours)
8 Stage profile control
Count down timer
24/7 real time clock operation
Manual or automatic overheat reset
High accuracy Pt100B duplex sensors <0.8ºC
Fan assisted circulation
Excellent stabilty <+/- 0.6ºC
Low chamber uniformity
Energy efficient with integral energy meter
New - Set point lock feature
Options
10 Menu x 8 stage profile control with cyclic option
Stainless steel chamber
Audible warnings
Explosion relief panels
Access ports (25m 50, 75 or 100mm)
Traceable calibration to national standards
Bespoke stands and stacking kits
Extractor unit
Extended warranty
Bespoke solutions available upon request
Design
The exterior is constructed from a powder coated heavy duty frame fitted with pained panels. The interior chamber is made from mild steel coated with aluminium (CLAD) with a stainless steel chamber available as an option.
A reinforced sliding shelf is fitted to aid the loading of the plastic sheets.
Heating
All units have cross flow forced air circulation and are heated by sheathed Incoloy elements around the fan.
Controls
The control system comprises of a bespoke touch screen interface that offers both accurate temperature control and integral overheat system by using 2 individual Pt100 sensors. Advance features can be turned on and off to suit bespoke heating applications and tailored to customer preference. Oven trending is displayed for up to 48 hours and optional upgrades are available for alarm outputs.
Specifications
Horizontal Style with Twin Doors


Genlab ref.
Number

Capacity
(litres)

Internal dims.
(H x W x D cms)

External dims.
(H x W x D cms)

No. of
Shelves

No. shelf

positions

Wattage/

Voltages

Weight
(kg)

PWO/600/TDIG

600

40 x 150 x 100

110 x 215 x 130

1

1

4500/415

320

PWO/900/TDIG

900

40 x 150 x 150

110 x 215 x 180

1

1

6000/415

400
Ordering
All units have CLAD interior with touch screen interface as standard.
Where options are required simply add the option code to the original reference.
E.g. PWO/900/TDIG with stainless steel interior and audible alarm becomes PWO/900/TDIG/SS/AWA
Contact sales for bespoke options.
Option codes
10 Menu x 8 stage profile control with cyclic option - 10PRO
Stainless steel chamber - SS  
Audible Warning - AWA      
Access Ports - AP
Single Point Traceable Calibration - SPC
3 Point Traceable Calibration - 3PC
Drop Down Door - DDD   
Stands - STAND
Extended Warranty - X1

Need Some Advice?
Contact us
* REQUIRED FIELDS
Tweets by @Genlab_ltd


All Genlab products come with a two year warranty
Bespoke Ovens Gallery
Click here to view some of the bespoke ovens we have built