Prime Unstirred Water Baths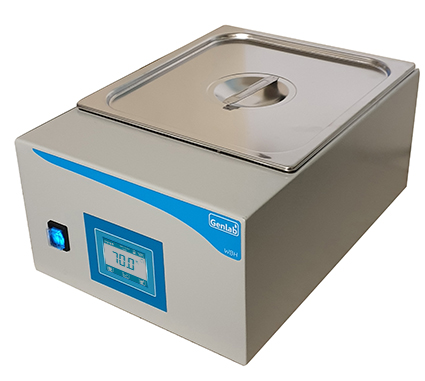 13 litre
Prime Unstirred Water Bath
PWBH13/TDIG/FL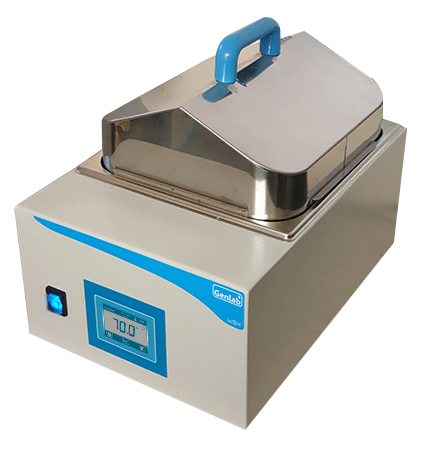 13 litre
Prime Unstirred Water Bath
PWBH13/TDIG/GL
The Prime WBH are the flagship brand of Genlab waterbaths. They are built to the highest standards and are packed with features and enhancements.
It features our latest touch screen control system which offers intuitive control designed for laboratory use. With a resolution of 0.1ºC, on screen trending, profile control and integral timers, this range of water baths help to maximise productivity.
Features
5 sizes: 8 to 54 litres
Temperature range 25.0ºC to 80.0ºC (without lid)
Temperature range 25.0ºC to 100.0ºC (with lid)
3 Stage timer modes, count down timer, 8 stage profile or real time clock mode
Easy clean powder coated body
Stainless steel tank
3.2in touch screen PID interface control
On screen historical trending (48 hours)
Manual or auto reset overheat control
High accuracies Pt100B duplex sensors <0.8ºC
0.1ºC resolution
Energy efficient with integral energy meter
New - Set point lock feature
Options
10 Menu x 8 Stage Profile Controller with Cyclic feature - 10PRO
Stainless steel flat lids
Gabled lids
Audible warning alarms
Stainless steel external body
Traceable calibration to national standards
Drain valve and tap
Extended warranty
Unstirred Water Bath Design
The exterior is constructed from sheet steel finished in an easy clean powder coated paint. It is fitted with a stainless steel interior bath which will allow filling up to 90% total volume. Each bath is supplied with stainless steel base tray. Heating is applied to the base of the bath, which enhances temperature uniformity and optimises internal spaces.
Heating
Heated by silicone heater mats with integral safety shut down if detecting dry boil conditions. Please note these baths are not designed to dry boil so always ensure water is in the bath before you turn on.
Controls
The control system comprises of a bespoke touch screen user interface, that offers both accurate temperature control and an integral overheat system by using 2 individual Pt100 sensors. Advanced features can be turned on and off to suit bespoke heating applications and tailored to customer preference. Temperature trending is displayed for up to 48 hours and optional upgrades are available for alarm outputs.
Unstirred Water Bath Specifications
Genlab ref.
Number

Capacity
(approx litres)

Internal dims.
(D x W x L cms)

External dims.
(H x W x L cms)

Wattage

Voltage

Weight
(kg)

PWBH8/TDIG

8.1

20 x 30 x 15

27 x 33 x 29

400

230

6

PWBH13/TDIG

12.5

15 x 30 x 32

22 x 33 x 47

800

230

7

PWBH18/TDIG

17.3

20 x 30 x 32

27 x 33 x 47

800

230

9

PWBH27/TDIG

27

20 x 30 x 50

27 x 33 x 65

1200

230

11

PWBH54/TDIG

53.8

20 x 49 x 61

28 x 66 x 65

2400

230

25
Ordering
All units have a powder coated mild steel exterior with stainless steel available as an option. All units come fully insulated with a stainless steel interior bath. Lids need to be ordered separately as an option. Where options are required, simply add the option code to the original reference.
Note, if Drain valve and tap are ordered the overall Height will increase by 5cm
E.g. PWBH13/TDIG with stainless steel exterior and gabled lid becomes PWBH13/TDIG/SSE/GL
Unstirred Water Bath Accessories
10 Menu x 8 Stage Profile Controller with Cyclic feature - 10PRO
Stainless steel flat lid - FL
Gabled lid - GL
Stainless steel body - SSE
Drain valve and tap - DVT
Traceable calibration - SPC
Extended warranty - X1
Audible warning - AWA

Need Some Advice?
Contact us
* REQUIRED FIELDS
Tweets by @Genlab_ltd


All Genlab products come with a two year warranty
Bespoke Ovens Gallery
Click here to view some of the bespoke ovens we have built