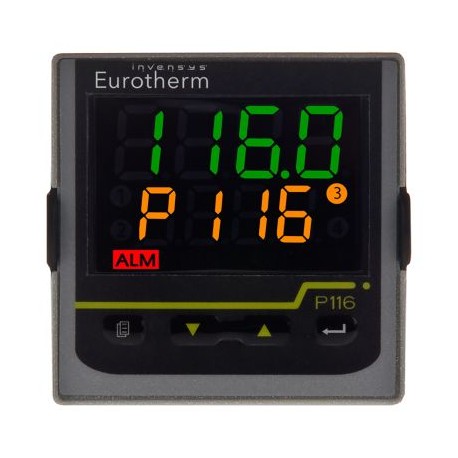 View larger
Eurotherm P116 PID Controller
New product
Eurotherm P116 PID Temperature Controller, 48 x 48mm, 2 + 1 (Change Over) Output
Universal Input
Output 1 Logic,
Output 2 Relay
Output 3 Alarm C/O
Warning: Last items in stock!
Availability date:
More info
General Purpose Temperature and Process Controller
piccolo™ controllers offer precision PID control of temperature and other processes with many advanced features not normally found in this class of controllers.
Features:
Precision PID control 
Easy to use and apply
High reliability and quality
Three year warranty
Overshoot elimination
Simplified and customisable operator HMI
High visibility three colour
LED display
Wipedown front fascia
Designed to offer outstanding performance in an affordable package providing a complete solution for a wide variety of applications, this range guarantees extremely easy access to parameterization and operation in a high quality unit.
Despite their advanced features, the controllers are easy to use and apply and may be customised for ease of operation. Full autotune is provided.
Overshoot elimination
The unique cutback system ensures precise control to setpoint and when correctly tuned inhibits temperature overshoot.
Ideal for:
Precision PID controller
Plastics Extrusion
Food and Beverage
Furnaces and Ovens
Incubators
Laboratory equipment
Reviews
No customer reviews for the moment.