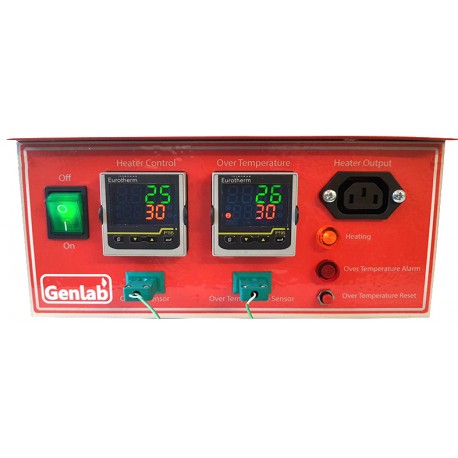 View larger
Genlab Bench Top PID Temperature Control Stations
New product
Warning: Last items in stock!
Availability date:
More info
Genlab's latest universal bench top PID Stations are popular among laboratory technicians, R&D engineers, and thermal engineers who want the latest PID controllers housed in an easy to operate and safely packaged solution. Using Eurotherm's latest P116 controllers for both closed loop PID control with an integral safety control loop monitoring the status of the controller and process loops.
Using the same features as our advanced industrial ovens, these PID stations allow users to simply connect to any heater load up to 2KW using the universal plug supplied. Feedback from the 2 x Type K temperature sensors supplied, will over accurate temperature control of any heating load. If the safety sensor is removed or the process is getting unexpectedly too warm, the station will go into an alarm mode. In alarm mode power to the heat source is isolated until it returns to a safe temperature and the operator presses the reset button.
The units come complete with a standard IEC lead making it compatible globally. With some of the most advanced PID firmware available in today's market, these bench top stations will provide you with excellent temperature control, reduced overshoot and great stability, yet are designed to be simple to operate. Rear mounted earthing points are also installed for 2 wire heater loads.
Features
• Compact station with integral Solid State Relay switching and high powered overheat relay
• PID (Proportional, Integral and Derivative Control
• Independent safety monitoring loop
• Only 250mm x 265mm x 120mm (W D H)
• High heater rating output - 2000 W @ 230V
• Manual overheat reset button with internal latching power relay
• Work with all types of heaters : cartridge, rod, strip, silicone heaters, plate, ceramic etc
• Supplied with 2 off universal type K sensor sockets allowing any style of thermocouple designs
• Multi Loop Stations Available Upon Request
• 3 Phase Stations Available Upon Request
• Panel Indication LED status
• Supplied with 2 off flying lead K thermocouples, 2m IEC lead and universal panel plug
• Customised branding available
Bespoke heaters and sensors available upon request
Reviews
No customer reviews for the moment.