Aerospace AMS2750 Nadcap Ovens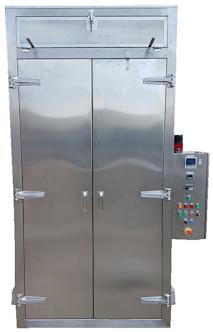 Genlab have been supporting Aerospace and Defence industries with our range of NADCAP (National Aerospace and Defense Contractors Accreditation Program) ovens since its launch in 1990. Working closely with blue chip companies such as Rolls Royce, Leonardo and GKN, we have a wealth of experience to lead this market with innovative designs. Partnering with leading AMS instrumentation manufacturer, Eurotherm, our range of NADCAP ovens can be designed in any of our standard ranges, but tailored to your NADCAP requirements.

We take pride in understanding the requirements of our customers and we oer a range of NADCAP ovens from basic class E designs through to class A with unique features to lower on going calibration costs associated with NADCAP requirements. Our ovens have been designed with a team of expert thermal engineers who have a wealth of experience in the calibration and servicing of ovens.
Options Available
• Exterior mounted sensor pockets for SAT
• Break in calibration points for calibrations
• Internal high temp banks for load sensors
• Floorless, insulated, channelled or reinforced foors
• Explosion relief panels
• Choice of powder coated mild steel or stainless steel
• Choice of any colours to suit your corporate image.
• Fan speed control and selectable motor sizes
• Approved safety interlocks and safety shut down systems
• Choice of control panel position or remote monitoring
• Manual, high speed automatic, top opening and
pneumatic door mechanisms
• Power ratings and voltages tailored to your process
• Bespoke ventilation systems
• Bespoke shelving and internal oven fabrications
• Timer and proler options for batch control and recording
• Closed loop, manual, cascade or PLC controlled systems
• Full range of communications.
Oven Furnace Classification
The first stage of specifying a new NADCAP oven isto decide on the classication. There are 6 stages of
classication depending in the maximum temperatureuniformity allowed as shown below. This
dened area if the working area of your oven andnot the internal volume of the oven. Many clients
allow at least a 50mm gap from the oven walls on Class 1 designs, the working area may be ½ the
volume of the oven.
Class    Uniformity       
1          ± 3°C   
2          ± 6°C   
3          ± 8°C   
4          ± 10°C 
5          ± 14°C 
6          ± 24°C 
Instrument Classification
The second stage of specication is to decide on which instrument class you are looking for. Within each zone specied, a thermocouple is installed.

Class E does not require any trending, class D to A required a permanent chart recorder and class B to A also require trending via a load sensor.
Instrumentation Class                                     Type A    Type B   Type C    Type D   Type E
Controller                                                              X             X            X              X             X
Control Sensor                                                      X             X            X              X             X
Control Recorder                                                   X             X            X              X         
Over-temperature policeman                                X             X            X              X         
Over-temperature sensor                                     X             X            X              X         
Multipoint Recorder                                                X            X            X                     
High temperature recorder                                    X                          X         
Low temperature recorder                                     X                          X                     
Load sensor connected to recorder                       X            X
Please download the brochure below to view all our additional options and features aimed at reducing future calibration running costs

Need Some Advice?
Contact us
* REQUIRED FIELDS
Tweets by @Genlab_ltd


All Genlab products come with a two year warranty
Bespoke Ovens Gallery
Click here to view some of the bespoke ovens we have built