Genlab Drum Warming Ovens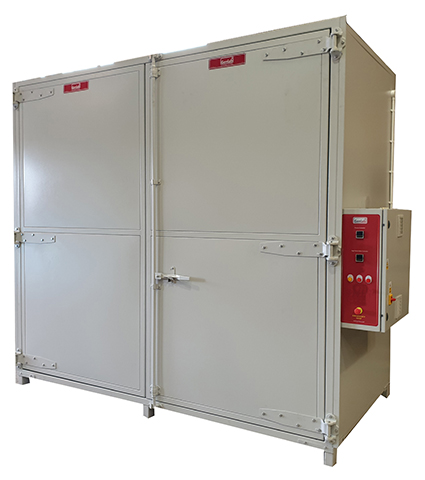 DWO16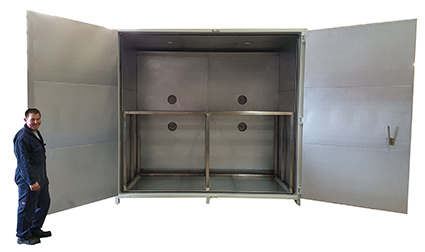 DWO16
GENLAB offer a range of Drum Warming Ovens (DWO) that are specifically designed for warm either 200Litre drums or standard size IBC's, and available in a range of sizes from one to sixteen drum capacity. Larger capacity units are available upon request.
Internal racking and cages are available to suit most drum sizes or specific systems can be manufactured to meet individual customer requirements.
Features
5 sizes 1,2, 4, 8 and 16 drum capacity
Temperature range 50 to 150ºC
Dual door with heavy duty 2 point locking mechanism
Internal safety release lock
Automatic overheat reset
High velocity fan assisted circulation
Excellent stabilty <+/- 0.8ºC
Low chamber uniformity
Options
Stainless steel chamber
Profile/cascade controllers
Process recorders with ethernet and USB output
Count down timers
Explosion relief panels
Access ports (25m 50, 75 or 100mm)
Traceable calibrations to national standards
Heavy duty shelving / trolleys
Extractor unit/bifurcated fans
Bespoke solutions available upon request
Design
Genlab DWO are constructed from a powder coated heavy duty framework which is fitted with powder coated panels and have a minimum of 65mm high density insulation.
The interior chamber is made from mild steel coated with aluminium, with stainless steel chambers available as an option. They are designed with a full insulated load bearing floor for energy efficient running.
Heating
Units are heated by Incoloy sheathed elements positioned in the roof of the oven, and have high speed fans for high velocity air circulation. Heated air is forced down internal side walls of the oven for optimum uniformity conditions. The larger DWO16 has the elements positioned in the rear of the unit.
Controls
An external control panel is mounted on the right hand side of the oven (left upon request). They are populated with market leading controllers from Eurotherm and have premium switchgear for longevity and reliable operation. Each oven has an independent overheat protection with auto reset and fan motor protection.
Specifications
Genlab ref.
Number

Capacity
(litres)

Internal dims.
(H x W x D cms)

External dims.
(H x W x D cms)

Wattage/

Voltages

Fans

(No x Size)

Weight
(kg)

DWO1

885

130 x 80 x 85

199 x 154 x 113

9000/415

1 x 0.37

700

DWO2

1550

130 x 140 x 85

199 x 214 x 113

12000/415

1 x 0.55

800

DWO4

2550

130 x 140 x 140

199 x 214 x 168

15000/415

2 x 0.55

1000

DWO8

5460

130 x 300 x 140

204 x 374 x 168

24000/415

2 x 1.5

1400

DWO16

12100

270 x 320 x 140

310 x 372 x 207

30000/415

4 x 0.55

1800
Ordering
All units have CLAD interior with an external control panel mounted on the right hand side.
Where options are required simply add the option code to the original reference.
E.g. DWO8 with explosion relief panels and 25mm access port becomes DWO8/EXP/AP.
Contact sales for bespoke options.
Option codes
Stainless Steel Chamber - SS
3 Point Calibration - 3PC
9 Point Temperature Uniformity Survey - 9PC
Explosion Relief Panels - EXP
Extraction Systems - BIEXT
Count Down Timer - TDT
Real Time Clock - RTC
Profile Control - 3016CP
10 Stage Profile Control - 3016CP10
Recorder - NCR
Recorder with Multi Profile - NPCR
25mm Access Port - AP
50mm Access Port - AP50
75mm Access Port - AP75
100mm Access Port - AP100
Door Contact - DC

Need Some Advice?
Contact us
* REQUIRED FIELDS
Tweets by @Genlab_ltd


All Genlab products come with a two year warranty
Bespoke Ovens Gallery
Click here to view some of the bespoke ovens we have built