Genlab High Temperature Ovens - 500 °C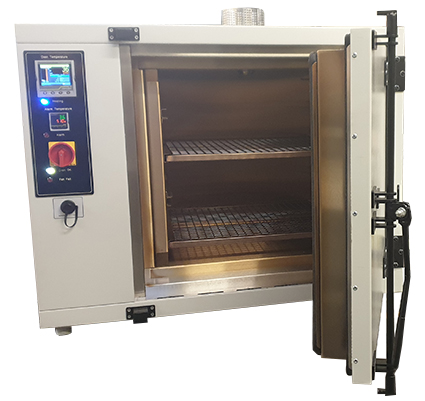 The GENLAB range of High Temperature ovens offer quick responding chambers capable of continuous operations of 500°C. Built to the highest standards, fitted with high density thermal insulation and air forced cooled front facia, these range of ovens are cool to touch from the exterior when operating at their maximum temperature.
Specifications
3 standard sizes, 64, 125 and 216 litres
Leading Eurotherm temperature controllers
Temp range 40 °C to 500 °C
Stainless steel interior
Supplied with heavy duty stainless steel shelves
Independent overheat monitoring
Fan fail monitoring
Low chamber uniformity
Heavy duty 2 point locking mechanism
Fan assisted circulation in chamber
Internal door cooling fan
Shielded ventilation cover
Options
8 Stage profile control
Datalogging / profile controllers
Ethernet communications

Access ports (25, 50, 75 or 100mm)

Traceable calibration certificate to National Standards

Bespoke stands and stacking kits

Extended warranty
Oven Design
The exterior is constructed from sheet steel finished in an easy clean powder coated paint. The interior chamber is made from heavy duty stainless steel. They are fitted with fixed shelf runners and removable heavy duty stainless steel shelves.
Air is forced around the front of the oven cooling the exterior.
Heating
Heated by Incoloy sheathed elements, positioned behind the control panel. Cool air enters via the rear and base of the oven which is circulated around the heating elements as it enters the chamber.
Controls
The temperature control is done via market leading Eurotherm PID controllers as standard, with an independent Eurotherm safety controller. Upgrades are available for profile, recording and communications if preferred. Indication of oven on, heating on, overheat alarm and fan fail are highlighted on the front LEDs.             
Sizes and Specifications

Genlab ref.
Number

Capacity
(litres)

Internal dims.
(H x W x D cms)

External dims.
(H x W x D cms)

No. of
Shelves..

Positions

Wattage

Voltage

Weight
(kg)

HT/64/500/F/DIG

64

40 x 40 x 40

68 x 89 x 80

2...2

3000

240

95

HT/125/500/F/DIG

125

50 x 50 x 50

78 x 99 x 90

2...3

4500

415

140

HT/216/500/F/DIG

216

60 x 60 x 60

88 x 109 x 100

2...4

600

415

210
Ordering
All units have stainless steel interior with Eurotherm P116 control and overheat controller.
Where options are required simply add the option code to the original reference.
E.g. HT/125/500/F/DIG with recording and door contact becomes HT/125/500/F/DIG/NCR/DC
Contact sales for bespoke options.
Option codes
Profile Control 1 x 8 - 3016CP
Profile Control 10 x 8 - 3016P10
Recorder - NCR
Recorder with profile control - NPCR
Count down timers - TDT
Real time clock - NCR
Door contact - DC
Access ports - AP
Audible warning - AWA
Traceable Calibration - SPC
Extended Warranty - X1

Need Some Advice?
Contact us
* REQUIRED FIELDS
Tweets by @Genlab_ltd


All Genlab products come with a two year warranty
Bespoke Ovens Gallery
Click here to view some of the bespoke ovens we have built