News
Covid – 19
Genlab has remained open throughout March and April, observing government guidelines and social distancing. We are getting an increasing number of requests from organisations asking if we can swiftly supply both bespoke and standard range products. The simply answer to that is yes!
We have supplied a large capacity multipurpose incubator, which was built from scratch and dispatched in an unprecedented time of under 4 days, because it was required as part of the governments testing procedures for Covid – 19. It has bespoke racking to allow more shelves and therefore more testing - see picture below.
As more and more tests are being conducted, more and more laboratory glassware drying is being required. We have found an increased demand for these products and have made amendments in the production process, to ensure that we can meet demand even more quickly. These units can now be delivered very swiftly.  
Lastly, we have also been asked for various pieces of laboratory equipment which is being used for the production and testing of PPE, which is so vital at the moment.
If you require equipment for your production process or if you feel something bespoke would improve your productivity, please ask us. All of our units are manufactured right here in the UK, at our factory in Widnes. We utilise our own control systems and do not rely on third party electronics, which are currently difficult to obtain. We have been thermal engineering since 1963, we are on hand, as ever, on 0151 424 5001.     
 

BLOODHOUND SSC Project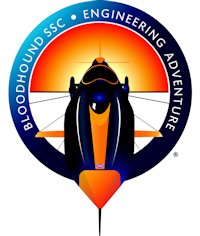 Genlab is very proud to be a product sponsor for the BLOODHOUND SSC Project.
The BLOODHOUND Project team consists of some of the world's most revered engineering talent, led by Richard Noble, the individuals involved have been handpicked to ensure BLOODHOUND SSC is a global success, bringing together previous partnerships and fostering new talent in one of the most exciting engineering adventures that the world has seen for many years.
BLOODHOUND SSC is a jet and rocket powered car designed to go at 1,000 mph (just over 1,600 kph). It has a slender body of approximately 13.4m length with two front wheels within the body and two rear wheels mounted externally within wheel fairings. It weighs 7.5 tonnes and the engines produce more than 135,000 horsepower - more than 6 times the power of all the Formula 1 cars on a starting grid put together!
The Car is a mix of car and aircraft technology, with the front half being a carbon fibre monocoque like a racing car and the back half being a metallic framework and panels like an aircraft.
Genlab wishes the team every success in its forthcoming record attempt.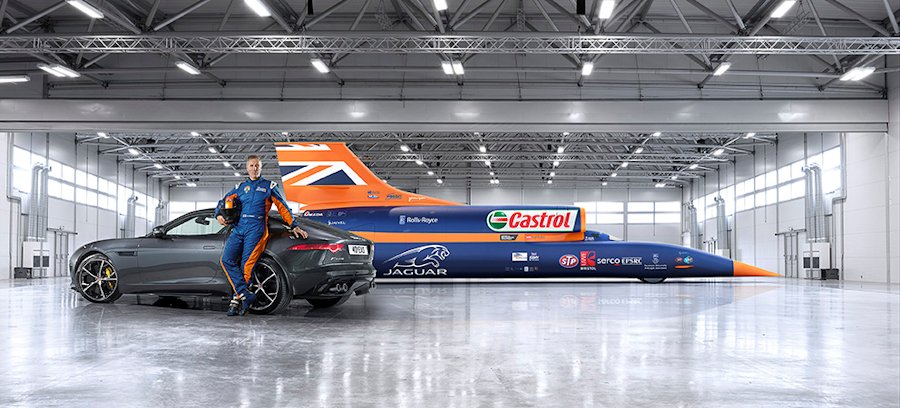 Genlab Employee Honoured at Buckingham Palace
Last Thursday, long standing Genlab employee, Stuart Callender was invited to a massive garden party held at Buckingham Palace, to honour the British Red Cross Society, which he is a member of.
The event was held as a thank you to the organisation for over 150 years of humanitarian service, especially the good work done by them a hundred years ago, during the First World War.
Hosted by the Prince of Wales, the gathering also saw The Queen's cousin, Princess Alexandra in attendance. Stuart travelled down for the event on the train and was incredibly impressed with the insides of the Palace. He was able to meet both the Prince of Wales and Princess Alexandra and talk to them about his work with the organisation.
The beautiful weather all added to what was a thoroughly enjoyable day. Stuart has been providing first aid with the Red Cross for nearly thirty years and it has taken him to a whole host of events like the British Grand Prix at Silverstone, rugby games and musical festivals.



Genlab Continues to Drive Exports
There is one thing Britain's politicians, economists and businesses have agreed on since the 2008 financial crisis and ensuing recession: exports are the key to recovery and to the UK's future growth. Genlab has exported for decades but likes to see itself as doing its bit for driving the economic recovery.
Over the last five years the business has seen an increasing number of its products going out to the Middle East. Genlab has negotiated several large deals with agents in this part of the world which has seen packed containers full of Soil Drying Ovens (SDO) sent out to the region. These durable products have been a staple part of the companies range and are really helping in the generation of vital tourist and business infrastructure in places like Oman, Qatar and Saudi Arabia.
This month a further 32 Soil Drying Ovens will be sent from the firm's headquarters in Widnes out to Dubai where they will be utilized on a wide range of new projects in this exciting tourist destination. Phil Crompton, Finance Manager said "It is comforting to know that products developed and manufactured right here in the UK are making a small difference to the way people are living their lives around the world".
If you are interested in purchasing Soil Drying Ovens or any of our other products, such as Laboratory Incubators or Drying Cabinets, please contact us on enquiries@genlab.co.uk or call +44 151 424 5001 alternatively please see the website at www.genlab.co.uk.

Come & See Genlab at ARABLAB
Genlab will be attending the forthcoming ARABLAB 2014 event later this year in March. It is always an event that gets put on the Genlab yearly calendar.

We have attended this excellent event in Dubai for years and always found it very beneficial. We will be displaying a range of our industrial ovens at ARABLAB and it is also an opportunity to chat about your unique thermal requirements with our representatives.
It will not be your only chance to see Genlab this year - we will attend several other events, but if you feel like saying hello, please pay us a visit at stand 639.
See you there!


Genlab Delivers on Green Promises
Genlab has always been keen to ensure that, wherever possible, it utilizes its own vehicles in the delivery of its industrial ovens and incubators. Over the past two years the company has sought to reinvest in its delivery fleet and, wherever possible, to ensure that environmental considerations are taken into account.
The company was an earlier adopter to electric vehicles and in 2011 purchased one of the first Nissan Leafs imported into the country. This electric vehicle has proved extremely competent over the last two years and has clocked up significantly more than the average UK mileage for a conventionally powered car. Along with commuting duties it has delivered industrial ovens and incubators to schools, colleges, universities and manufacturing facilities all over the North West.
After purchasing the Nissan Leaf, Genlab also pensioned off two older vans and introduced two brand new Ford Transits. The vans were selected with extremely careful consideration of the exact duties they would perform during their lifespans. "It is incredibly important to ensure that you have done your homework properly before purchasing any commercial vehicle, any mistake is likely to be an expensive one" says Phil Crompton, Finance Director. "Taking fuel consumption and emissions into consideration, isn't just environmentally important, it is financially critical too".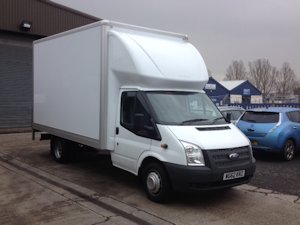 Before it ordered any vans, Genlab took a step back and discussed with the people that will be at the wheel of the vehicles day in day out and asked them what was important what would help maximize load efficiency. As a result of these discussions a slightly wider Luton box was specified for one of the Transits. This action has increased the amount this vehicle has been able to carry on one of its regular job by almost 50%, over its predecessor.
As well as being aerodynamically efficient, with one of the latest types of roof deflector, one of the transits is equipped with the latest stop/start and speed limiter technology, all of which helps to ensure that the fuel range is optimized.
Going forward Genlab feels that it now has the fleet which will allow it to efficiently deliver its industrial ovens and incubators throughout the decade and into the next.
30th January 2014


Genlab Celebrates 20 years of Quality
2014 is a milestone year for Genlab, an industrial oven and incubator manufacturer because it marks 20 years of continuous ISO 9001 accreditation.
Established in 1963 and based in Widnes, Genlab has been producing industrial ovens, laboratory ovens and industrial incubators at its premises for over 50 years. The business makes a standard range of industrial ovens and incubator units but can also tailor make products for individual requirements, something that the business very much prides itself on.
In 1994 it became evident that in order to demonstrate its commitment to quality, the business was going to need to obtain an internationally recognized quality standard. ISO 9001 was duly implemented and over the decades the standard has become an instrumental business tool for Genlab.
Phil Crompton took over responsibility for the Quality Management System in 2013 and was extremely pleased to be able to confirm reaccreditation with NQA just before Christmas. He is committed to working hard to ensure that the system is continually developed to adapt to a changing marketplace and also customer needs.
Since 1994 a lot has changed in the world, but Genlab continues to remain focused on delivering the best quality products that it possibly can to its customers. Looking forward, the future looks bright and Genlab is extremely pleased to already include in its orders for 2014 an Industrial Oven for a Formula One team. It has also just received an order for a range of bespoke units for one of the most prestige motor manufacturers in the world.
For more information or to view our range of products please contact us at enquiries@genlab.co.uk or Tel: 0151 424 5001
29th January 2014

Need Some Advice?
Contact us
* REQUIRED FIELDS
Tweets by @Genlab_ltd


All Genlab products come with a two year warranty
Bespoke Ovens Gallery
Click here to view some of the bespoke ovens we have built